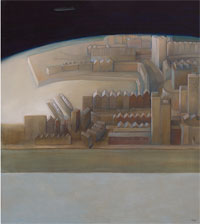 The building enterprise Aedes Nova Srl, specialized in interior and exterior renovations, places its long experience in civil building at the disposal of its customers, guaranteeing a professional and competent service.
Our philosophy is that of following all the stages of the works daily, while relying on qualified technicians and workers. Moreover we offer a service of project engineering and architectural advising for interior and exterior renovations of civil buildings and apartments on top of commercial and industrial premises.
Our objective is our customers' complete satisfaction. This is why we renovate existing rooms or apartments, planned with insufficient attention to ergonomics and space rationality, making them more liveable. The same concept applies also in the conversion of commercial or industrial buildings. Our thorough knowledge of materials allows us to offer our clients many alternatives for the resolution of a same problem. Thanks to this, we are able to deliver quality jobs with quality products.
Contacts
Aedes Nova Srl
Address: Via del Casale Santarelli, 64
00118 ROME
Tel./Fax: 06.79846023
Contact us via e-mail